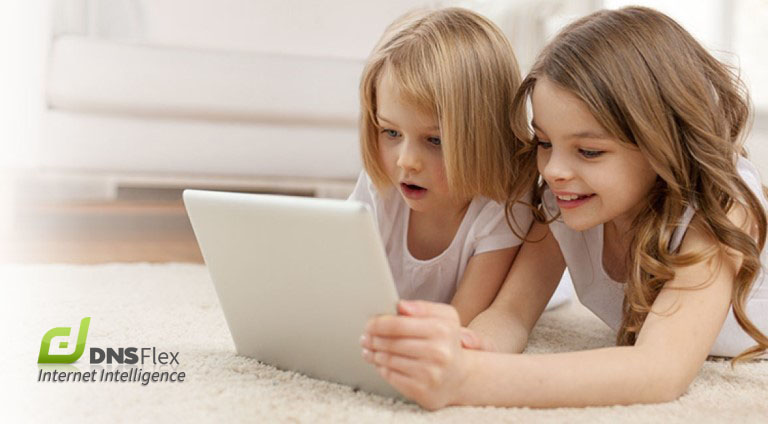 Kids get into all sorts of things they shouldn't be getting into online.  As parents, we should take appropriate action in determining what's acceptable and what's not for our children to be accessing on the internet.   They need to know that what they have is effective, up-to-date and always working.
That's why, we're introducing a product called "Secure DNS".  It is an absolutely simple and easy to setup for any parent to protect their kids from the bad stuff on the internet.  There are no complicated software installations and the service can be setup in minutes.
Secure DNS is different because it can be used across all the devices in your home including – Gaming consoles, Tablets, Smart Phones, Computers and Smart TV's.  When you enable Secure DNS Parental Controls, it will apply a set of filters throughout all devices connected to your home internet connection instantly without the need to configure each device independently.
How does DNSFlex Parental Control Work?
It's as easy as 1..2..3.   We designed the system in a way to keep things simple for you.  In order to activate the Parental Controls on your home devices, you will need to update the DNS Numbers on your Router.   DNS is the protocol your computer uses to translate internet domain names into an IP Address.  Think about it as the phone book of the internet.   Our DNS technology uses internet intelligence to detect and block unwanted websites when you choose to do so.
Follow these simple steps to enable Parental Controls and make your Internet Safe and more Reliable:
Log into the DNSFlex Dashboard and write down the DNS IP Addresses recommended for you.
What does DNSFlex Parental Control Block?
Our 54 pre-configured filter categories cover a wide array of online content, updated frequently to deliver the most up to date domain names on the internet.  DNSFlex servers store over 100 million domain names available for filtering.
Choose from 4 preconfigured filtering categories:
High
Protect against all adult-related sites, illegal activity, social networking sites, streaming/video sharing sites and general time-wasters.
Medium
Protects against all adult-related sites, illegal activity (including drugs, hacking and gambling), violence and spyware related sites.
Low
Protect against all adult and sex education related sites, including over 500,000 website domain names, fresh updates on a daily basis.
Custom
Customize your selection by choosing from any of the 54 Categories you want to block. Manage custom lists of select all categories, fast and instantly.
Having an additional layer of security for your home internet is definitely an option worth pursuing.  For peace of mind, knowing your kids are safe and secure while you are at work or travelling.  It is the easiest way to make your internet safe and reliable.